Football Game Pumpkins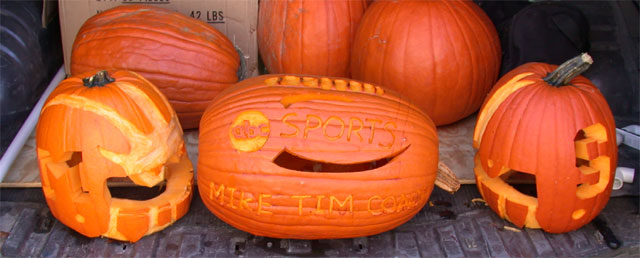 OK, I will admit that I lead a fairly boring life. Tonight is the Friday night before Halloween and I just got back from a nice, inexpensive dinner at a local Vietnamese place. (Vy Nga Sandwiches on John R and 13 mile in case you want a good, cheap meal). This was a big date for Lisa and I.

Anyway, when we got home there was a desperate message on our answering machine from the folks at ABC Sports. They were in town broadcasting the Michigan/Michigan State game and wanted some pumpkins carved. Would I be interested?

So I agreed to carve a couple of pumpkins in exchange for two passes onto the sidelines of the game. I am not a big college football fan, but sideline tix to the big game is a big deal. So, I am spending my Friday night creating some football pumpkins.

Look for them during the game on ABC. It is being broadcast to most of the country. I know the image above looks crappy, but I have a neat idea for the pumpkins, I am going to make them into the helmets of the two teams. ABC didn't want anything too extreme, just a couple of pumpkins. Its an easy gig.

Oh yeah, I know, I know, I am a sell out. I have compromised my grotesqueness for a couple of tickets to a football game. I have only one thing to say "Damn right I did. See you at the game"