Free Pumpkin Patterns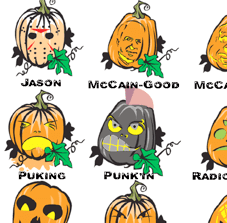 This file of extreme pumpkin patterns includes the greatest pumpkin designs from my first two books and two presidential candidates from 2008(?). There are a total of 48 pumpkin patterns. You can download them all for free. Each pattern will print on its own page and is great to use on your pumpkin. Print only your favorites or print them all and bring them to a pumpkin carving party. They will be the hit of halloween!

This is not your ordinary assortment of free pumpkin patterns. You will find only the grossest, silliest and most disturbed pumpkin ideas in this packet. Enclosed, you will find 48 extreme pumpkin ideas that you can print out and then carve. You will also find pumpkin carving tips, photos that show you how to use these exact pumpkin patterns and illustrations of what the designs should look like when you complete them! This package of patterns and how-to tips will enliven any halloween party.

These patterns are available for immediate download, so even if it is the afternoon of October 31st, you can still download and print the file. These free pumpkin patterns are combined into one .pdf file that you will have no trouble with. Print all of it, or choose the pattern you like best and only print that page. It is your choice.

I guarantee that these pumpkins will shock and amaze your neighbors and any trick or treaters. Your pumpkin will be unique and stunning!

For free, absolutely no charge, you get all of these designs:

The Alien Squash
The Bat Symbol Pumpkin
Batman Pumpkin
Bats Pumpkin
Booger Eater Pumpkin
Brain Damaged Pumpkin
Carrie Pumpkin (from the movie Carrie)
Black Cat Pumpkin Pattern
The Cyclops Pumpkin
Doll Eater Pumpkin
The Drunk Pumpkin
Electrocuted Pumpkin Pattern #1
Electrocuted Pumpkin Pattern #2
Foul Play Pumpkin
An Entire Gallery Of Grimaces You Can Use In Your Own Design:
* Juvenile Delinquent
* Evil Grin
* Beat Up
* Crying
* Dead
* Goofy Grin
* Ground Demon
* Scared
* Stupid
* Surprised
Harry Potter (I'm not so proud of this one)
Head on Fire
Jack Skellington Pumpkin
Jason Pumpkin
John McCain (good and evil versions, leftover from the 2008 elections)
Mummy Pumpkin
Barack Obama (good and evil versions, again leftover from the 2008 elections although, slightly more useful than McCain)
Puking Pumpkin Pattern
Punk Punkin
Radioactive Pumpkin
Revolutionary Pumpkin
Satan Pumpkin
Skull Pumpkin (with spider)
Skull Pumpkin
Snot Shooter
Spiderman
Stoner Pumpkin
Tiki Pumpkin 1
Tiki Pumpkin 2
Transformers - Autobots
Transformers - Decepticons

The file also includes step-by-step instructions to guide you through using these patterns. These instructions are in color and use photos to help you with the process. This could be the best set of free pumpkin patterns in the entire universe!

As a bonus, you also get two sets of fonts. Carving letters into pumpkins can be tough. These two fonts won't fall-in when you carve them.

All this for absolutely nothing! It is totally free.

Here is how to order: Click on the "add to cart" button. This will send you to the shopping cart. Fill out the order form. When the order confirmation page appears, click the "Download" button. This will download the file to your computer in a .pdf format.

Print whatever pages you want or don't want. Keep the file for as long as you want. I hope you enjoy it.