Pumpkin Carver for Hire - How To Hire Me for Your Event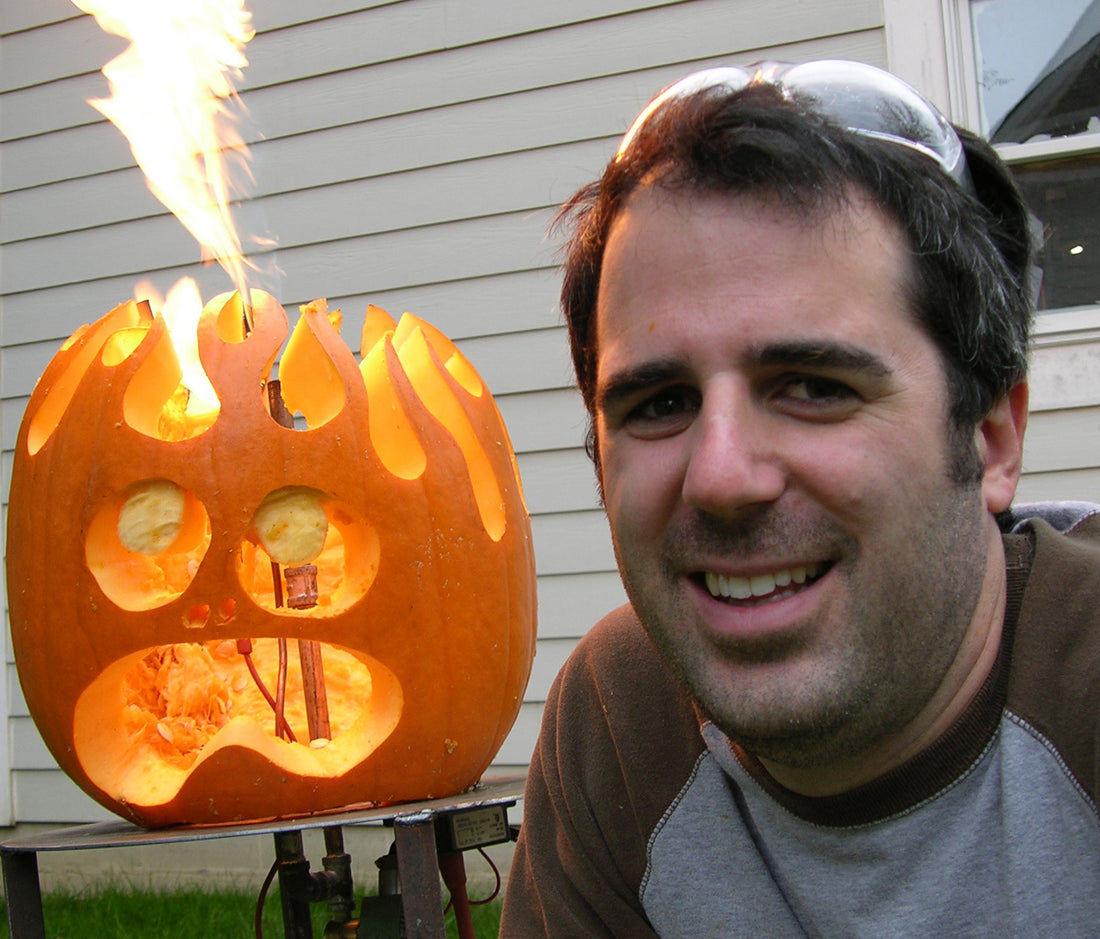 Are you looking for a high-energy, professional pumpkin carver for your fair or event? I bring all of my pumpkin carving tools, tricks and special effects to wow your crowd. It is a fun, educational, and motivating show. You have never hired a professional pumpkin carver like me.
The Extreme Pumpkins spectacular is a family-friendly pumpkin carving show that moves along quickly and showcases a number of great pumpkin designs! I work a full day, so you have the opportunity to schedule a number of demonstrations or workshops for me to lead. In 8 hours, I can typically carve 12 pumpkin designs while still managing to eat lunch and go to the bathroom. I am fast!
Booking me is not difficult. I have an agent that handles my professional pumpkin carving appearances. Send me an e-mail through this site and let me know what date(s) you would like me to carve, your location, and if there are any local media opportunities for me to cross-promote my books. I will reply within a business day.
I am available to travel from my base of the Detroit area, but as you can imagine, you have to pay for the time and travel expenses. Booking me within driving distance allows me to include all of my tools and special effects. If I have to fly to you location, I won't be able to bring my flame cannon or gas-powered pumpkin gutter, but I'll be able to bring all of my extreme pumpkin carving tools and materials.
Dates: Pumpkins are usually available from August until early November. If you have pumpkins, I can carve them! I can also carve watermelons and other vegetables, but my main skill and trade is pumpkins. Please Note: The week leading up to Halloween is usually booked solid for me with TV appearances but I can recommend a fellow pumpkin carver. It is a tight-knit community, so I can help you find a person if I am busy. So please feel free to contact me about your pumpkin carving needs.
Name:
Tom Nardone
From:
Detroit, Michigan
Wife and Kids?:
Yes (a good one), Yes (three of them)
Started Carving Pumpkins Seriously:
1999
Number of Pumpkins Carved:
Over 700
Largest Pumpkin Ever Carved:
300 lbs.
Fastest Pumpkin Ever Carved:
50 miliseconds
Tools Used:
Ryobi Power Tools sponsors me personally. I also have created a number of extreme tools such as: The Pumpkin Gooper, The Pumpkin Thumper, The Roto-Killer, and the Gas Powered Pumpkin Gutter.
Past Appearances:
Late Night With Conan O'Brien, Regis & Kelly (twice), Good Morning America (twice), MTV, CNN, Fox & Friends, History Channel, Travel Channel, WGN Chicago (3 times), Local and Regional Network Affiliates, Numerous Farmers Markets, Festivals, Fairs, and Businesses.
Books:
3 Best Sellers: Extreme Pumpkins (2007, Penguin), Extreme Pumpkins II (2008, Penguin), Extreme Halloween (2009, Penguin)
Number of Books Sold:
Over 250,000
Yearly Website Visitors:
2 Million
Best Attributes:
Zany, Fast-Paced, Concise, Fun.
Available for hire:
Yes.