How To Carve Pumpkins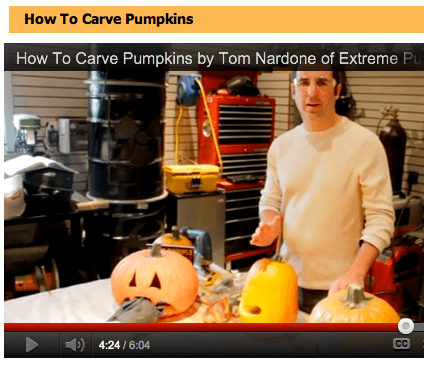 Carving pumpkin is easy. Sure, I personally use power tools and extreme techniques, but many of the methods that I use to carve pumpkins apply to anyone.
Over the years I have carved tons of pumpkins. During that time I have learned a few shortcuts and tricks. I'm happy to share them with you on these pages. You may have to listen to me preach the gospel of extreme techniques, but you'll find a ton of pumpkin carving advice.
Here are my top 8 Pumpkin Carving Tips:
1.
Choose the right pumpkin.
I like them taller than they are wide because that is the shape of a face. I also like them big and ugly because that makes them look interesting.
2.
Decapitation or Back Surgery?:
You don't have to take off the top, you can also take of the bottom or the back,. I cut off the bottom if I want the top to look untouched and I cut off the back if I want to use the entire front, top, and bottom for a design. Regardless, you do want to get in there and remove the seeds, if you don't the squirrels will.
3.
Cutting the Plug:
Decapitating is the toughest thing to do, the top of the pumpkin is woody and tough. You need a strong blade. I use a drywall saw for this. They don't cost much, about $6 and they are hard to match. If I didn't have one, I'd use a filet knife and I'd be cautious. Cut the plug to be a cone-shape (see the video for the explanation) with a little jog in it, so that it comes out easily and fits back easily too.
4.
Scoop the goop:
I use my ice cream scoop. Not only that, but I've gotten my arm dirty enough times to have developed a way to stay fairly clean. Scrape around the sides, starting from the hole opening to the bottom. Then, after all of the walls are scraped, dump the pumpkin into the trash. Easy!
5.
Draw the face:
I use dry erase markers because if you don't like your work, you can erase it! Also, after you are done your pumpkin won't end up with an accidental layer of guy-liner that screams "sloppy".
6.
I'm really lazy, so I use power tools to carve my pumpkins.
Sure, a kit from the store will do the trick, but I want it done quickly. Mostly I use my jigsaw to remove chunks (like eyes and the mouth) and then a rotary tool to carve away the skin. For big areas I'm not afraid to break out an angle grinder. It removes the pumpkin skin and can even be used to shape the pumpkin.
7.
Great Props Are Everywhere.
I look for fun props everywhere, but my favorite places are the grocery store, home depot, and the craft store. I like to use twizzlers for dreadlocks, wood chips for teeth, taffy for tongues, home insulation for brains, all sorts of things. I've become the best pumpkin carver on the block by using some really cheap gags and you can too.
8.
Preserving Your Pumpkin:
Pumpkins rot. But yours doesn't have to rot as quickly. When my pumpkin is done, I spray it with bathroom cleaner with bleach. This keeps the bugs, mold, and animals away.