I Wrote A Second Book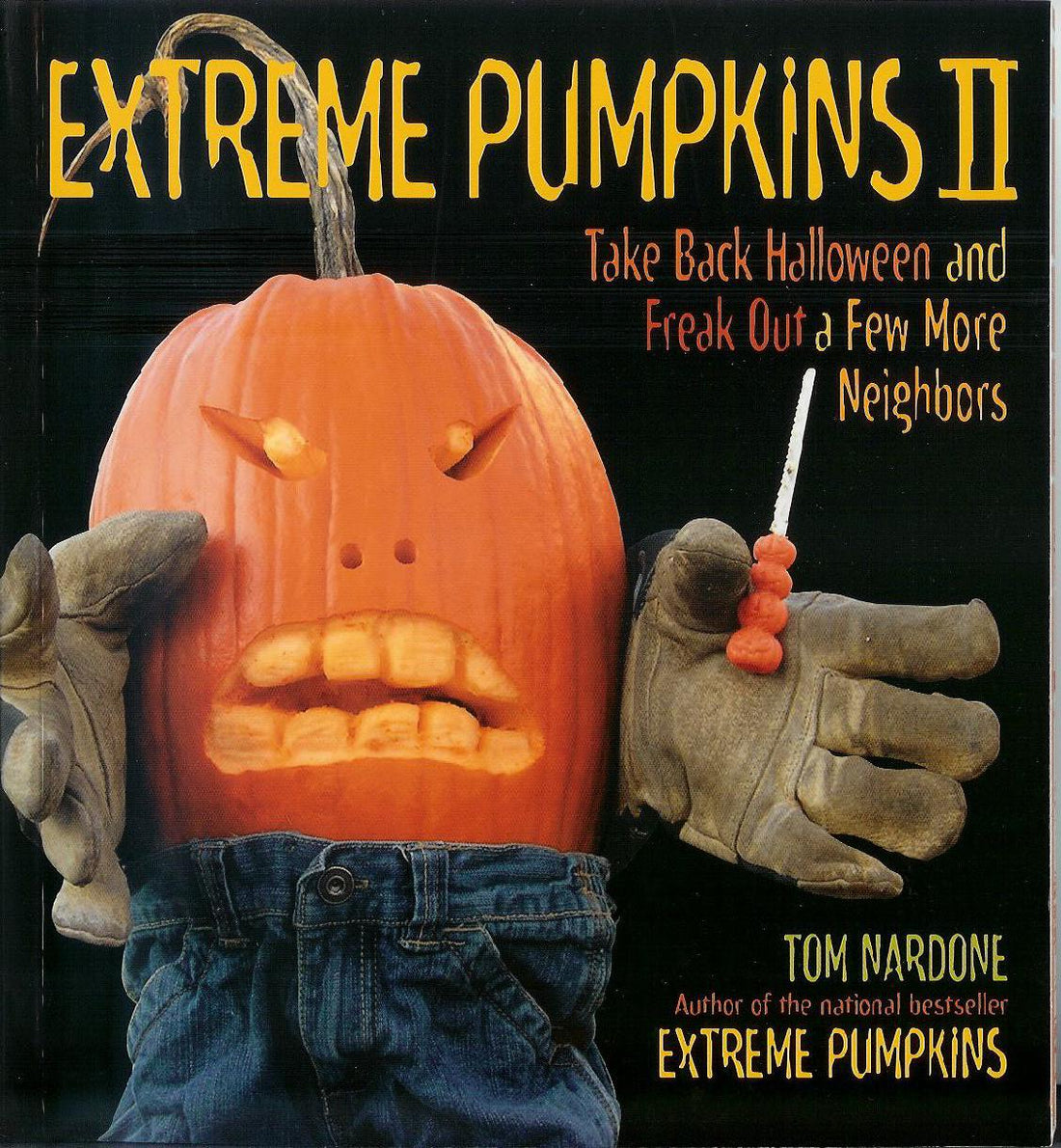 Honestly, I never really expected this website to amount to much. Sure, I put a bunch of time into it, but that was just a hobby. Every person wastes time on his hobbies.

When I received an offer to write my first book I thought that they must be crazy. I cashed the checks as fast as I could. Then I spent the money outfitting my garage.

But as I wrote the book, I found that I actually enjoyed it and that I was proud of what it was. The first book was funny, different and full of cool ideas. It sold well too. It also made me semi-famous for about 3 days in late October.

The next thing that happened, was an opportunity to do a second book. There were enough ideas and I had certainly been carving a ton of pumpkins lately, so I was ready to go. A couple of months later, I finished it. This time, I was allowed to do some ideas that are more complex and difficult. The final title of the book is Extreme Pumpkins II - Take Back Halloween and Freak Out a Few More Neighbors.

Update: As of July 2008, three printings of the book have been ordered. It won't actually go on sale until September 3rd, but I guess book stores are buying it already.

Update 2: I have signed on with a talent agent. I have a TV show idea I am working on (not Halloween related by the way) and they are trying to get it to go forward.

Update 3: As of August, 2008 my wife has taken all of the money that I earned writing this book. My kids are taking Chinese classes. They are 3, 2 and 2 years old. I wanted them to take "riding around in Dad's Corvette classes" but my wife prevailed.

Update 4 - I am going to start developing some pumpkin patterns. People seem to enjoy them, so I thought I would put together a download-able package of patterns. It will be inexpensive, fun, and easy to use. Look for it in early September.

Update 5 - The History Channel just came out to my house and garage to shoot a segment for Modern Marvels. I unveiled two new inventions on the show. One is a puking pumpkin that continually recirculates its vomit. The second is what I am calling the "Roto-Killer". I trash-picked a roto-tiller and have converted it into a gasoline powered pumpkin gutting machine. The puking pumpkin worked great on the first try. The "Roto-Killer" was considered a success when we all left with every finger still intact. It was pretty scary.

Update 6 - I carved pumpkins at a few festivals and fairs this year. It was fun and I like to eat funnel cakes, so I really enjoyed myself. My talent agency books me for these types of things. If you are interested in having a crazy pumpkin carver that likes to entertain kids and adults, contact me and I'll come to your town. This year I did 8 appearances which kept me busy all season. It was fun.

Update 7 - The downloadable pumpkin patterns sold well. I think they are a good deal, but I think that in 2009 they may be free of charge. This year I had to create them, but in 2009 I will have them all done. The credit card companies got a really large chunk of the money. If I don't charge for them, I won't be far behind and many, many more people will have access to them. That sounds like I'll create some good karma. Maybe more people will buy my next book.

Update 8 - Penguin publishing signed up for another book. This will be my third. This time it will be all sorts of Halloween stuff. I'm excited again to create some crazy tricks and treats.

Update 9 - The book is almost done. It is Christmas. This one is really, really good. It will be called Extreme Halloween. Look for it in your local bookstore or online starting September 1st, 2009. See the next link on the website to find out how that book is going.