Press Contact & Booking Information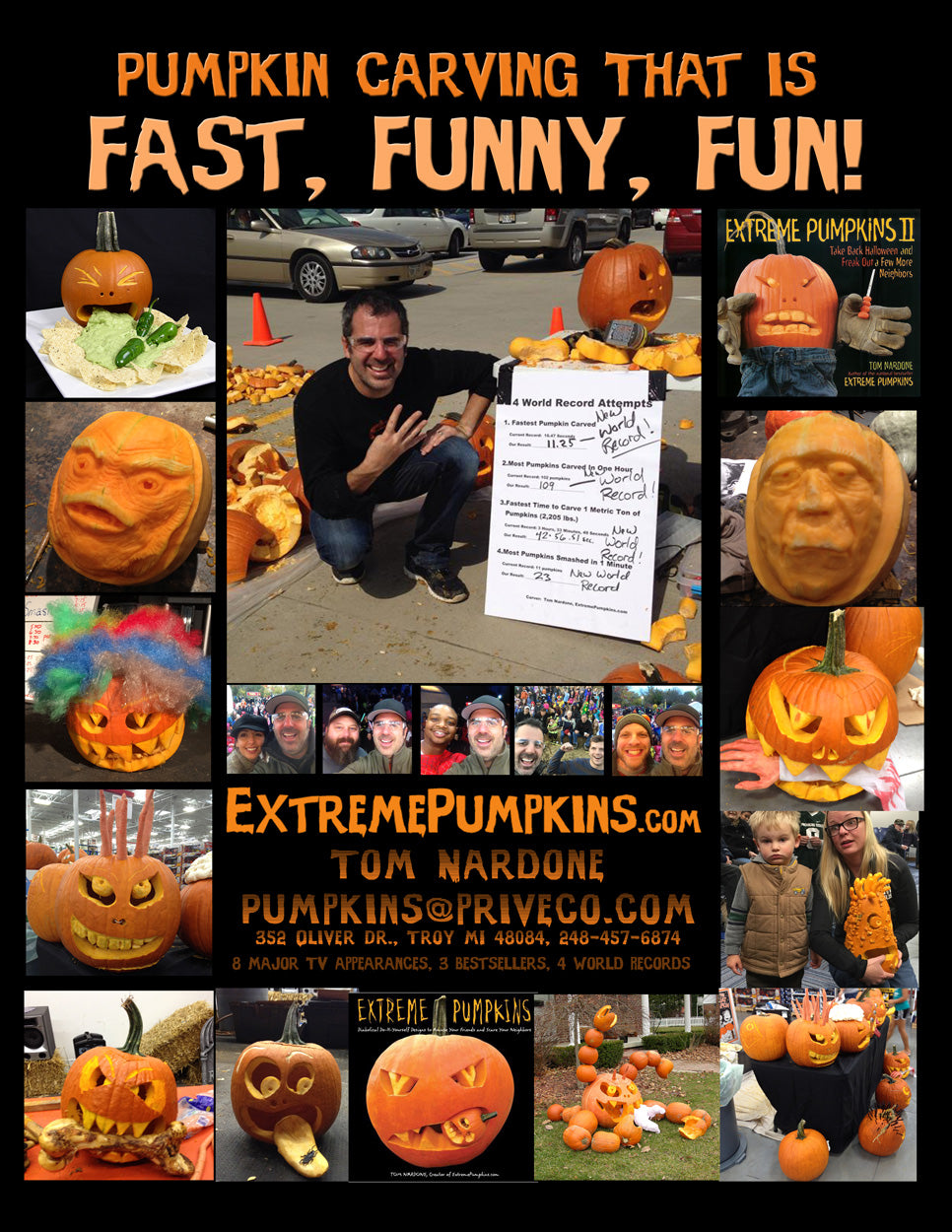 Looking for a professional pumpkin carver?
You have found one. My name is Tom and I might just be the world's most famous pumpkin carver. I created this pumpkin carving website over a decade ago and it has been nothing but fun ever since.
Each Halloween, I get asked to carve pumpkins professionally for TV, magazines, newspapers, and professionally. This is a HUGE treat for me. I have a high-octane approach to Halloween that your viewers and listeners will love. I always have fun getting into the halloween spirit and showing people something they have never seen before.
In the past, this has paid off by allowing me to be on Conan (twice), Live with Kelly (twice), Good Morning America (three times!), The Today Show, Queen Latifah, MTV and the History and Travel Channels. This year I am ready again to support your broadcast.
I also book pumpkin carving gigs. My largest is a long-running engagement at the Detroit Zoo where I have a stage, PA, and an audience of 5,000-7,000 people per night. I have also carved at pumpkin patches, apple orchards, libraries, pumpkin festivals, corporate events, store openings, casinos, fundraisers, magazine articles, and for photo shoots. I'm fun and professional and can cater my appearance to your audience.
I am a best-selling author. Penguin has published my three halloween and pumpkin carving books. Over 500,000 of my books have sold, so I may be familiar to many members of your audience. So, if you are looking for a professional pumpkin carver, please let me know. I like to talk about pumpkins and halloween.
Thanks for reading.
Tom Nardone
tom (at) PriveCo.com