Past Appearances - In Case You Missed Me on TV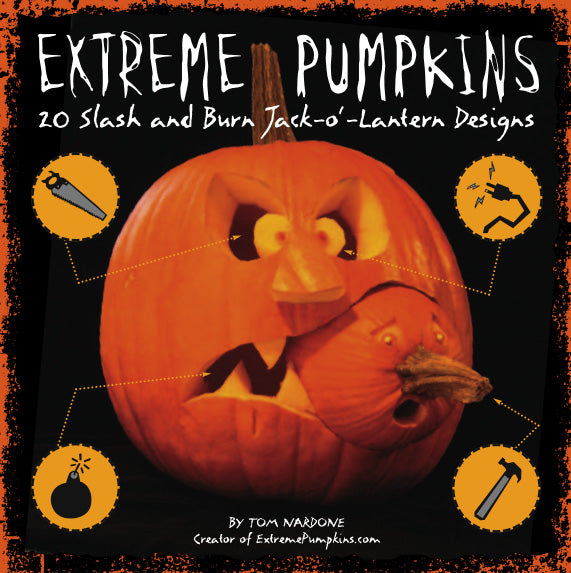 Here are some YouTube videos of my 2007 and 2008 press appearances. I was on Conan, Regis and Kelly (in both 2007 and 2008), The Travel Channel, Good Morning America, The History Channel, and MTV. I hope you enjoy the clips. I think they went really well. I have since done some other appearances but I haven't compiled them into a roll yet.
My appearance on Conan was the best! I am a fan of the show, so I made a point of visiting the show the day before. They allowed me to hangout back stage and carve pumpkins. I got to meet Pink and Jason Biggs the night before my appearance. Most of the time I spent with my new friend Bill Tull. Bill is the prop master for Conan's show. He has a little inventors workshop in the building. It is sweet.
On my big night though, I was poised and ready with more power tools than you can imagine and a whole slew of carved pumpkins. I was also pleased that Mary-Kate Olsen stopped by MY dressing room to say hi! She was really nice and a super-great person. If anyone ever says anything bad about her, you should let them know that your friend Tom met her and she was totally cool. No lie.
Conan is unbelievably funny and really, really tall. I'm 5'11" and he makes me look a bit shrimpish in this clip. We had much fun and he invited me to stay on set until the closing which I guess is a little bit of an honor. He also said that he was really pleased with the segment. So was I.
This appearance was on Regis and Kelly Live. It was guest-hosted by Jimmy Kimmel. The appearance went very well and I think everyone enjoyed it. This was my first big-time appearance and I wanted to do something cool in case I didn't get another shot at TV. Using my own judgement and without telling anyone else, I decide I would pull a prank.
The night before the appearance I holed up in my hotel room and filled a pumpkin with fake blood. I use a marinade injector syringe to do this and it is tedious work. The injector, which looks like a giant hypodermic needle holds about 2 ounces of blood so I must have injected it about 60 times.
The next morning I snuck that pumpkin onto the set and swapped it with one of the pumpkins the Regis and Kelly show provided. Then all I had to do was keep my mouth shut. If you watch the clip you can see a sleep-deprived Jimmy Kimmel completely grossed out by the fake blood. It was worth it because the segment turned out really great and even the producers thought it was funny. They even invited me back in 2008. I'll try to post that clip in the future.
This clip was from Good Morning America. It was a lot of fun and I worked hard to make all of the pumpkins that they requested. GMA put me up in a HUGE hotel room. It was on the top floor of a sky scraper and it had two bedrooms and three bathrooms! It was awesome. Unfortunately, I got there at 1 in the morning and had to be on set at 4:30. Also, I was sick as a dog. I did my best though and enjoyed the folks at GMA.
Here is a clip of a Travel Channel special I was in. The special was called "Halloween's Most Extreme" and I was one of two pumpkin carvers. The beginning of this clip has some of the other guy on it. It is a nice contrast. I am happy that the production company made me look cool. I continue to talk to the folks at that production company, so I made some friends as well.
Finally, I was on MTV's TRL. This was a bunch of fun. I watched a lot of MTV as a kid and this was a wild dream come true. They even had me pick a video. It was pretty sweet, I was a VJ for a minute. In this clip you can see that I am wearing some type of strange costume. It is my electric boogaloo costume. It is an electrified breakdancing costume that I made. It didn't show very well under the studio lights, but if you ever get a chance to see me at a party, lookout! Note: Unfortunately, this video was pulled from YouTube for copyright issues. Oops.