Matt Starts The Rotting Process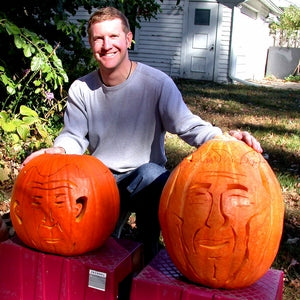 The time to rot has begun. I know that pumpkins start to rot rapidly when they are exposed to the air. They seem to rot even more rapidly if they are exposed to warmer air.

I also know that one source of hot air in my neighborhood is my drinking buddy Matt. I called him over to appear in this photo. Actually, I didn't call him at all. I just opened a beer and waited. Matt lives about 20 houses away, but I swear that he can hear it. He cruised by on his bike and it was photo time.

This is Matt's first photo this year. If his noggin looks a little larger in this photo it is because Matt won the "fan mail" contest last year. Matt received more fan e-mail from this website than anyone else. This was a good thing, because Matt is a single guy and he can put the fan mail to good use.

If you have the hots for Mr. Matt, drop us a line. We are counting up the e-mails.

In this photo Matt appears to be saying "ready, set, rot."