The Beer Cooler Pumpkin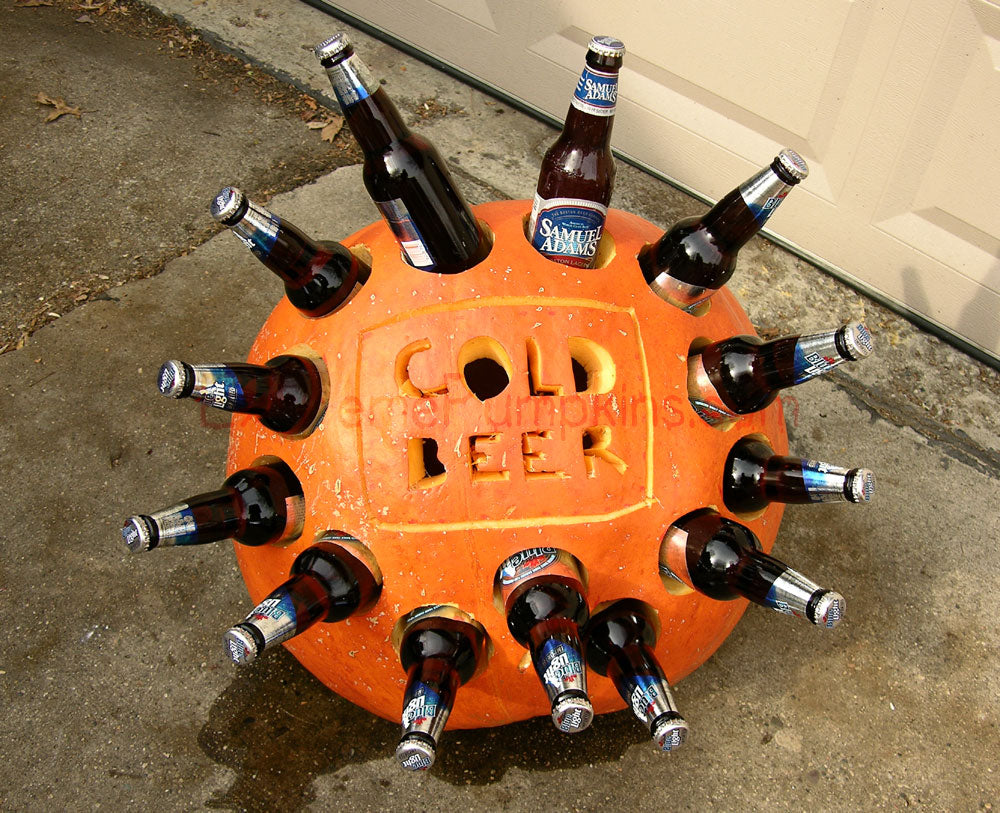 Another rejected section from the Extreme Pumpkins book. Personally, I thought this was one of the weekest designs, so I was happy to see it didn't make the cut. The 25 or so designs that did make it were better. Here is what I wrote about the beer cooler pumpkin.

The Beer Cooler Pumpkin

Having a pumpkin carving party for the dudes? Cool. Serve up the brewskis in a pumpkin that you carved into a cooler. It is easy.

This cooler will keep the brew cold, will look cool and when the party is over, and you don't need to wash it out and store it in the basement on November 1st. The only drawback is when you created a lighted sign that says cold beer for your porch, some strange people come trick or treating. Don't say that I didn't warn you.

Here is how to make a beer cooler pumpkin:

What you neeed:
• A big, giant pumpkin. Hopefully one that has been stored in a cool place.
• A bunch of beers.
• A pen, pencil, marker, or white board marker.
• Lots and lots of ice
• Carving tools.
• A waterproof flashlight or lantern

Here is how to make it:
1. Decapitate and gut the pumpkin.
2. Carve out the words Cold Beer out of the orange skin of the pumpkin. You don't have to go entirely through the pumpkin flesh. (I use a router for this, but carving chisels do a great job too or you can even use a knife)
3. Trace the bottom of a beer bottle or can on the pumpkin.
4. Carve out a hole and then stick that beer in the hole.
5. Repeat steps 3 and 4 until you run out of room or beer.
6. Keep the pumpkin very cool until about 2 hours before any activity. Then
7. Fill the pumpkin with beer, ice, while placing the waterproof lantern inside the pumpkin cavity.
8. As your friends take a beer, you can replace that beer with a beer that they brought with them. Then again, if your friends are like mine, they don't bring beer. You might want to make sure the pumpkin is kept outside where spilling ice water is not a problem.


---

Here is the sidebar that I wrote for the beer cooler pumpkin.

---

Help Me, My Cooler Didn't Work:

Using a pumpkin for a cooler isn't really a great idea. Sure, it is cool and looks great, but it isn't really the perfect item for cooling things.

For one, coolers are designed to insulate your food thus separating the food inside from heat outside. Pumpkins aren't really good for that. They are made mostly of water. This actually makes them the opposite of an insulator.

Pumpkins do have something in their favor. It takes a huge amount of energy to change their temperature. They have a large amount of "thermal mass" meaning they like to stay at the temperature they are. So, if your pumpkin starts out cold, it will stay cold. If you start with a pumpkin that was out in the sun, it is going to take a bunch of ice to cool it off. So, before you need it, store the pumpkin in a cold spot in your basement or garage.