The Love Letter Derby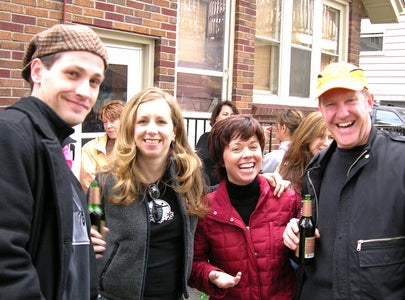 Each year it seems that I get a bunch of love letters. This is a very strange thing for a number of reasons:

1. I am married.
2. I am a dork.
3. I am a nerd.
4. Most of the photographs have me doing something that is likely to cause a great deal of embarrassment to the loved ones that I leave behind.

Last year, Matt started to appear on the website. Soon, he began to get as many loveletters as I did. This was the source of much drama among our friends. Some even complained that they never receive love letters. I decided to fix all of this.

From here on out, I am going to pimp all of my friends. So, if any of them strike your fancy, make a note of their name and send me an e-mail (my e-mail is on the contacts page). If you include your name, city/state, and your e-mail address that should be sufficient. We are going to keep count to see who receives the most inquiries.

The people in the above photograph are (from left to right): Teon, Jackie, Jill (married), and Matt.

More Rules:


1. Only women can send in raunchy pictures because I don't have the stomach for the dudes.
2. The pictures will NOT be posted on the website. That is no fun and a privacy violation.
3. All love letters will be read by me first and then if they seem sincere will be forwarded along.
4. Anyone on the site that is married will generally be noted. There is a separate section of the love letter derby for the married folk. Keep in mind that none of us makes enough money to afford a mistress, so love letters to the married people are a little futile.
5. There is no prize other than the possible contact by one of my single friends.
6. For fear of my own life I am not mentioning the age of my friends.
7. Pictures really do have to be of you to count.